Buy & Quote
To order, contact LINEEYE distributors.
If you cannot find one in your country, contact us by Mail Form. When we receive your email, we will inform you of prices of our products.
The flow diagram of order is here:
When you request for a quotation, include the model name and quantity.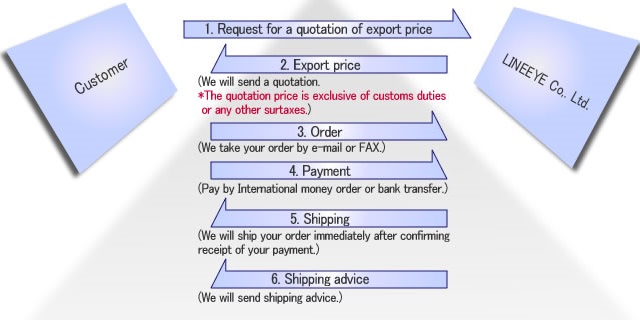 Required expense except your order
Shipping Charge
If you do not have any specific freight forwarder such as DHL, FedEx, TNT and UPS, we will quote shipping charge. (Shipped by DHL)
Charges for custom clearance and VAT must be borne by the recipient.
We suggest you contact your local customs office for further information.
Payment
International Postal Money Order
Bank Transfer
We will inform you about our bank information after receiving your order.
The handling charge for the Bank Transfer is at your own expense.
We will ship your order within 2 or 3 days after confirming receipt of your payment.
Damaged product
If your product is defective, contact LINEEYE distributor or us as soon as possible.
Warranty
Within a period of 12 months from the date of shipment.
Delivery
It will take from a week to a month to deliver your order.
(Some parcels may be delayed by customs check or any other reasons.)
---
Distributors

Asia & Oceania

Europe

North & South America

BUY ONLINE

BUY ONLINE
Europe
North & South America

United States
Abstract Electronics, Inc.
11526 53rd Street North Clearwater, FL 33760, USA

Brazil
T&M INSTRUMENTS Representacoes Ltda.
Rua Princesa Isabel, 1750, Brooklin,
04601-003, Sao Paulo, SP, BRAZIL
Asia & Oceania