Oct. 28,2008
LINEEYE CO., LTD.
New Multi-Protocol Analyzer LE-2500/LE-3500
LINEEYE Co., Ltd releases a new multi-protocol analyzer LE-2500/LE-3500 that is light weight, A5 size and battery powered.
1. Background
Nowadays, not only communication products, but also other electronic devices are needed to have some kinds of data communications. Thus, many kind of protocols are developed to suit to each product and system. Portable multi-protocol analyzer, LE-2500/3500 is very useful because it is portable and you can bring it to anywhere you need to solve the communication troubles.
2. Outline
LE-2500/3500 has almost same functions compared to LE-2200/3200, but it is smaller and lighter. The corners of this product are covered by rubber to protect the product from the accidental damage. Also light weight, A5 compact size and running 8 hours by battery power allow you to bring the product to the place you have encountered the problems. The communication speed, memory capacity and so on are improved compared to the former models. It supports RS-232C, RS-422/485(RS-530) Monitor/Simulation/BERT functions for arbitrary speed. It also has long hours recording to CF card, logic analyzer function, expansion boards for supporting other protocols, and the PC link software. It improves some other functions, such as voltage measurement for RS-232C and the external trigger output for each trigger condition. It is useful not only for developing some communication systems but also for maintaining the systems outside of your office.
3. Appearance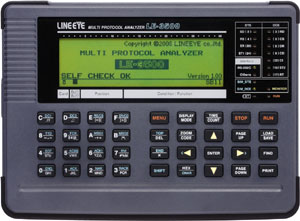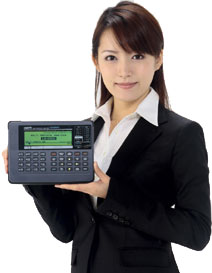 4. Feature
A5 size, less than 800g, 8hours running by battery power.
Has Monitor/Simulation/BERT function for multi-protocol.
Supports TTL, I2C, IrDA, ASK, CAN and LIN by exchanging the measurement boards (option).
Continuously Records in the CF card (option).
Has the simple Logic Analyzer function (resolution: max. 50ns) and the RS-232C signal voltage measurement function.
Able to use the measured data on PC by using the PC link software (option: LE-PC300G).
RoHS certified.
5. Specification
Model
LE-3500
LE-2500
Interface
Standard
RS-232C, RS-422/485(RS-530)
With option cable
X.20/21, RS-449, V.35
With expansion kit
TTL, I2C, BURST, IrDA, CAN, LIN
Protocol
Standard
ASYNC, BSC, SDLC, HDLC, X.25, PPP
With expansion kit
I2C, IrDA(IrLAP), CAN, Device net, LIN
Capture memory
6.4Mbyte
2.4Mbyte
Speed
50bps-2.048Mbps (1.544Mbps: half duplex)
50bps-1.000Mbps (1.000Mbps: half duplex)
Monitor function
Continuously records the logs without affecting the communication line,
and displays the data in the LCD.
Statistic function
Provides the graphs in the order of measuring.
Trigger function
Specifies 4 pairs of trigger conditions and actions. Able to have sequential actions,
one input for external trigger, two output for external trigger.
Simulation function
6 mode (with program mode)
4 mode (without program mode)
BERT function
ITU-T G.821 confirmity. Measures the line quality such as error rate.
Optional function
Logic analyzer function. RS-232C signal voltage measurement.
CF card
8 Gbyte
2 Gbyte
Display
Monochrome, Backlight
Monochrome
Interface
AUX(RS-232C), USB
AUX(RS-232C), USB
Dimensions
210x154x38mm, 790g
210x154x38mm, 760g
6. Compare LE-2500/3500 to LE-2200/3200
New
Former
New
Former
LE-3500
LE-3200
LE-2500
LE-2200
RS-232C, RS-422/485
YES
YES
YES
YES
TTL, I2C expansion set
OP-SB5G
OP-SB5F
OP-SB5G
OP-SB5F
IrDA, ASK expansion set
OP-SB6G
OP-SB6F
OP-SB6G
OP-SB6F
CAN, LIN expansion set
OP-SB7GX
OP-SB7FX
OP-SB7GX
OP-SB7FX
High speed HDLC
OP-FW10G
OP-FW10
-
-
Capture Memory
6.4MB
3.6MB
2.4MB
1.2MB
Max. speed for full duplex
1.544Mbps
1.000Mbps
1.000Mbps
500Kbps
Max. speed for half duplex
2.048Mbps
1.544Mbps
1.000Mbps
1.000Mbps
Statistic function
YES
YES
-
-
Simulation function
6 mode
6 mode
4 mode
4 mode
RS-232C voltage measurement
YES
-
YES
-
Trigger output
2
1
2
1
CF card
max. 8GB
max. 1GB
max. 2GB
max. 1GB
LCD display
Backlight
Backlight
No backlight
No backlight
External interface
RS-232C, USB
RS-232C, Parallel
RS-232C, USB
RS-232C, Parallel
Dimension WxDxH
210x154x38mm
240x180x39mm
210x154x38mm
240x180x39mm
Weight
approx. 790g
approx. 950g
approx. 760g
approx. 940g
7. Options
Name
Model
Interface Expansion set
TTL, I2C Expansion set
OP-SB5G
3/5V level of TTL Communication
IrDA Expansion set
OP-SB6G
FIR speed for IrDA has a limit.
CAN, LIN Expansion set
OP-SB7GX
Measures two channels simultaneously
Firmware
High Speed HDLC, CC-Link
OP-FW10G
Expansion board
Current Loop
SB-25L
Need to have OP-1C
CF card
2GB CF card
CF-2GX
Confirmed by LINEEYE
8GB CF card
CF-8GX
Confirmed by LINEEYE
PC Software
PC Link Software
LE-PC300G
OS:Windows2000/ XP/ Vista
8. Contact
Email: Contact Us