Nov. 11,2009
LINEEYE CO., LTD.
Guide on Updating Firmware for LE-8200
Latest firmware add "User defined translation function" which can translate frame data at specified position to the characters or numbers. It is useful to analyze the unique protocol format.
1. Models need to be upgraded
Analyzers of the former versions, moreover if the analyzer needs functions, improvements, and fixed contents added by the latest version.
How to check the firmware version of your analyzer:
You can check the firmware version on the opening screen displayed after turning on the power of analyzer.
[Complete version history information]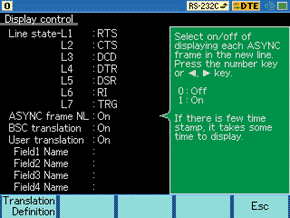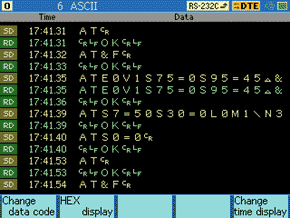 2. Upgrade Information
Display frame for each timestamp in the new line when ASYNC protocol.
Create a new setting, "ASYNC frame NL" in the Display Control for above condition.
Change the guide message of "Line state" in the Display Control.
Support "print out" function for displaying timestamp between two frames when HDLC/PPP protocol.
Add the continuous display of analog waveform when using OP-SB85, OP-SB85IR or OP-SB85C.
(real time waveform while measuring which is similar to the oscilloscopes.)
Add slow sampling clock for analog waveform function.)
( Add 2us, 5us, 10us, 20us, 50us, 100us, 200us, 500us, 1ms )
Change the position when increasing/decreasing the waveform of analog/logic analyzer display.
Correct a miner bug of position of cursor/ marker for logic analyzer display.
Correct a miner bug of I2C translation display.(when using OP-SB85)
Add a function to communicate with PC efficiently by compressing the simulation program.
Correct a problem of "Invert"(Interface configuration) for simulation.
Correct the remote processing for unexpected command/ data.
Add a fuction not to freeze when receiving a large amount data.
3. How to update latest firmware
Please read "
LE8FIRM_E.TXT
" recorded on CD-ROM attached to the analyzer, and transfer the latest firmware to the analyzer.
Download the latest firmware
Download :
le8200_fw2_v106.zip
(1737kB)
4. Contact
Email:
Contact Us