May. 14, 2015
LINEEYE CO., LTD.
New LAN⇔RS-422/485 Converter "SI-65A" Supports a Wide Range of Temperature
LINEEYE CO., LTD. releases the new interface converter, SI-65A, which can be used in the heat/cold place. SI-65A can connect the factory devices with RS-422/485 serial ports into 10/100Base-TX LAN network.
[ Background ]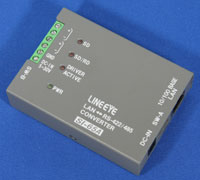 There are high demands of IoT adapters, which can convert RS-422/485 data into Ethernet LAN and transfer data to a remote place with high accuracy. SI-65A is the sister model of SI-65, supporting a wide range of temperature and power supply input. Therefore, it can be used for the Natural energy generating equipment, monitoring devices, power meters and so on. Exchanging some of the materials such as the electrolytic capacitor and tantalum capacitor into Ceramic capacitor make this product high reliable. Furthermore, variable installation options are available, such as DIN plate for installing 35mm DIN rail and wall bracket for attaching the device on the wall.
[ Features ]
Connects 10Base-T/100Base-TX by auto-detection. Supports multi-protocols such as TCP/IP, UDP/IP, ARP, etc.
Selects RS-422/485 (Full duplex/ Half duplex) and terminal control ON/OFF by DIP switches.
Has RS-485 state watch function with Flow control, and Auto driver control function.
Non-use of Electrolytic capacitor and tantalum capacitor.
Can use in the workplace environments between -25 to 75 degree Celsius.
Low power consumption. Supports DC5 to 30V wide input.
Solid, card-case sized, and metal enclosure.
Supports installation of 35mm DIN rail.

[ Specifications ]
Conversion
LAN <-> RS422/485
LAN Interface
RJ-45 connector 10BASE-T/100BASE-TX, Ethernet IEEE802.3
LAN Protocol
ARP, UDP/IP, TCP/IP, ICMP, SNMP, Telnet, DHCP, BOOTP, HTTP, AutoIP
Serial Interface
RS-422/485, 6 pole terminal block (Press-to-screw pitch type),
Serial signal
SD, RD or SD/RD
Synchronous Method Baud rate
Asynchronous
300bps to 230.4Kbps, 460.8Kbps, 921.6Kbps
Connection Type
Selects 4-lines (RS-422) or 2-lines (RS-485) by DIP switch.
Data Frame Structure
Data (7 or 8) + Parity (Even, Odd, None) + Stop (1 or 2)
Terminal Control
Selects ON/OFF of terminal control by DIP switch.
Multi-drop connection
Max. 128 sets
Other functions
RS-485 state watch, Driver auto control, Timer for state watch.
Management Initial setting
Web server, Telnet login, Serial login, SNMP
LED display
LAN connection, RS-485 signal status
Power Supply
AC adapter: AC100V+/- 15%, 50/60Hz
Terminal block: DC5 to 30V from 6pin
Power Consumption
2.8W/ 3.7VA (when using attached AC adapter)
Temperature Humidity
-25 to 75 degree Celsius
10 to 95% RH
Dimension / Weight
65(W) x 90(D) x 24 (H)mm, Approx. 200g
Accessories
AC adapter , Utility CD-ROM, Instruction manual, Warranty
[ Contact ]
Email: Contact Us