What's new
21st February, 2022
LINEEYE develops multi-protocol analyzers for measurement/test of 1GbE/PoE and serial communication.
LINEEYE Co., Ltd. develops 4 models of multi-protocol analyzers "LE-8500X / LE-8500XR" which support measurement of 2-channel 1GbE or 1-channel PoE and "LE-8500X-RT / LE-8500XR-RT" which support RS-232C/RS-422/RS-485/TTL measurement and will start selling them one by one.
Outline
LE-8500X / LE-8500XR is a handy-type communication-protocol-analyzer equipped with a measurement board that can simultaneously measure and test the power supply status of one PoE (Power over Ethernet) and two lines of Ethernet communication data on a line (from 10BASE-T to 1000BASE-T). It can be widely used for diagnosis and testing of LAN networks and related devices by using its packet monitor function, packet generate (PG) function, statistical analysis function, PoE judgment function, etc. according to your test situation.
LE-8500X-RT / LE-8500XR-RT are successors of the conventional model "LE-8200 series" and take over the communication-analysis function of the models. They are equipped with the measurement board for RS-232C, RS-422/RS-485, and TTL as its standard board instead of the measurement board for 1GbE/PoE. Both models are equipped with a 7-inch wide-color LCD with a touch panel, thus you can check the measurement data immediately on-site without using a personal computer. You can log the data can be automatically saved to a USB flash memory etc. via USB 3.2 (Gen1), thus you can analyze the data in detail after the measurement.
In addition, as the time stamps that are time-corrected with high accuracy by GNSS signals can be added to the monitor data, by checking the time stamps you can compare and analyze the data measured simultaneously at two points for a long period of time to investigate a communication failure. Furthermore, by replacing the standard measurement board with another measurement board (sold as an option), the communication interface to be measured can be expanded later, so they can be widely used from network systems to development testing and maintenance of embedded communication equipment.
>> LE-8500X product information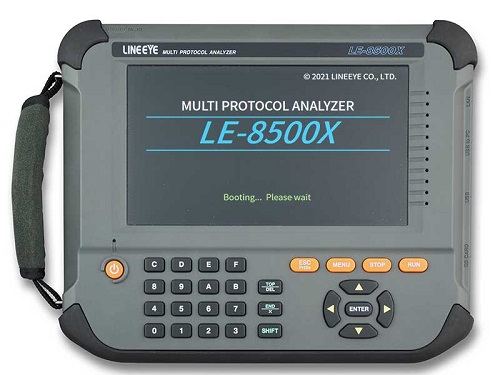 [ LE-8500X/LE-8500XR measurement port ]

[ LE-8500X-RT/LE-8500XR-RT measurement port ]
Feature
Simultaneous measurement of 2 Ethernet packets and PoE power (LE-8500X / LE-8500XR)
Output test packets at wire-rate from 2 channels at the same time (LE-8500X / LE-8500XR)
PoE++ judgment, long-time PoE power recording (LE-8500X / LE-8500XR)
Supports RS-232C, RS-422/RS-485, TTL communication (LE-8500X-RT / LE-8500XR-RT)
Supports high-speed serial communication of up to 20 Mbps (LE-8500X-RT / LE-8500XR-RT)
Various data can be displayed on the 7-inch wide-color LCD main unit screen, and screen touch operation is possible.
Accurate time stamps with the time correction function using GNSS (PPS) signals
Automatically records communication logs to large-capacity external storage via USB3.2 (Gen1)
Measurement data can be transferred to a PC for analysis via LAN, USB, or Wi-Fi (XR only) connection.
Specification
Model※1
LE-8500X / LE-8500XR
LE-8500X-RT / LE-8500XR-RT
10/100/1000BASE-T
Yes
With SB-GE2※3
RS-232C, RS-422/485, TTL
With SB-R2TS1※2
Yes
Protocol
IPv4, ARP, ICMP, TCP, UDP, DHCP, EtherCAT
ASYNC, PPP, SYNC, BSC, HDLC, SDLC, X.25, CC-LINK , Modbus , PROFIBUS, I2C, SPI, BURST
Max. speed
1Gbps
4Mbps (20Mbps when high-speed mode)
Measurement test function
Packet monitor, packet and PoE monitor, PoE judgement recording, statistic analysis, delay time measurement, packet generate, Ping, port blink
Monitor, simulation, BERT, logic analysis, statistic analysis, signal level measurement, delay time measurement
Capture memory
1Gbyte
Display
7-inch TFT color with capacitance touch panel
GPS port
SMA (female), for time correction of the time stamp. Optional GPS antenna is to be connected.
USB device port
Type-C connector, for SuperSpeed transfer. A PC is to be connected.
USB host port
Standard A connector, for SuperSpeed transfer. External storage (USB flash, SSD) is to be connected.
SD card slot
SDHC card is supported. SD Association standard compliant
Power
Built-in lithium-ion battery or attached AC adapter
Size & Weight
234(W) x 186(D) x 44(H)mm, about 990g
※1
: "XR" model has Wi-Fi function (for PC connection)
※2
: Functions equivalent to LE-8500X-RT by using optional board (SB-R2TS1).
※3
: Functions equivalent to LE-8500X by using optional board (SB-GE2).
Contact