PRODUCT
Multi Protocol Analyzer
NEW
LE-3500XR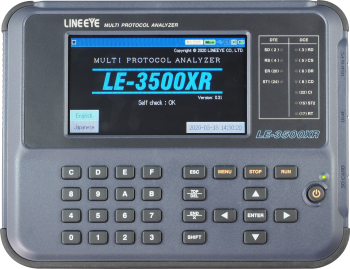 ●4.3 inch color touch screen
●RS-232C, RS-422/485, TTL (UART/I2C/SPI) as standard
●Supports Modbus, I2C, and SPI measurement tests as standard
●Supports CAN, CAN FD, LIN, CXPI etc. by optional expansion set
●Secure long-term recording on USB flash or SD card by AUTO SAVE
●High precision time stamp of hour, minute, second, 10msec
●Logic analyzer analysis and signal voltage measurement
●Supports PC connection and remote control by Wi-Fi


LE-3500XR: Japanese model (with Japanese manual)
LE-3500XR-E: Abroad model (with English manual)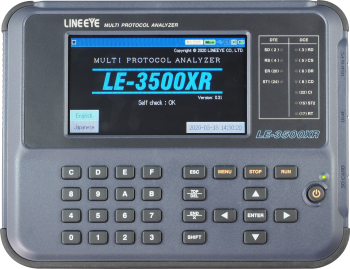 Data Sheet
Specifications (Multi Protocol Analyzer LE-3500XR-E)
Interface
RS-232C (V. 24)
RS-422/485 (RS-530)*1
TTL(1.8V/2.5V/3.3V/5V level)
Expansion measurement interface*2
CAN FD/CAN/CXPI [OP-SB7XC]
CAN FD/CAN/LIN [OP-SB7XL]
Current loop comm [OP-SB1C]
X. 20/21 [OP-SB10N + LE-25Y15]
RS-449 [OP-SB10N + LE-25Y37]
V. 35 [OP-SB10N + LE-25M34]
TTL (USART) [OP-SB5GL]
RS-530[OP-SB10N]
Expansion firmware*2
High-speed CC-Link/HDLC/SPI[OP-FW10XR]
Standard protocol
ASYNC (Asynchronous), ASYNC-PPP
Character synchronous SYNC/BSC
Bit synchronous HDLC/SDLC/X. 25
I2C, SPI
Modbus
BURST*3
Optional protocol
CAN FD, CAN, Devicenet, LIN, Current loop comm
Synchronous clock
ST1 (DTE transmission clock), ST2 (DCE transmission clock), RT (DCE reception clock), AR (The synchronous clock extracted from the edge of the transmission and reception data)
Capture memory*4
DDR3-SDRAM 100MB
SRAM for automatic saving 512KB
Memory usage feature
Use divided in two, protect against accidental erasure, and selection of ring buffer or fixed size buffer are available.
Battery back-up
Back up the SRAM and RTC by the built-in lithium battery for about 5 years
Baud rate
Full duplex: 2.048Mbps / Half duplex: 2.048Mbps
Speed setting range
50bps to 2.048Mbps*5
Speed setting step and accuracy
Can freely set four effective digits, separately for transmission and reception.(Margin of error: ±0.01% or less)
Data format
NRZ, NRZI, FM0, FM1
Data code
ASCII, EBCDIC, JIS, Baudot, Transcode, IPARS, EBCD, EBCDIK, HEX*6
Character framing
ASYNC : Data bit (5,6,7,8) + parity bit (0,1) + stop bit (1,2)
Character synchronous : Data bit + parity bit (6 or 8 bits in total)
Bit synchronous : Data bit (8 bits)
Parity bit
NONE, ODD, EVEN, MARK, SPACE
Multi-processor bit
MP (multiprocessor) bit is shown with a special mark.
Bit transmission order
LSB first or MSB first (switchable)
Polarity inversion
Normal or Inverted (switchable)
Error check
Parity (ODD, EVEN, MARK, SPACE), Framing, Break, Abort, Short frame, BCC (LRC, CRC-6, CRC-12, CRC-16, CRC-ITU-T, FCS-16, FCS-32), and BCC transparent mode can be selected.
Online monitor function
Communication log is recorded continuously and displayed in the LCD without affecting the communication lines.
Idle time display
OFF (no record); Resolusion: 100ms, 10ms, 1ms, or OFF can be selected.; Max 999. 9 sec
Time stamp display
Date/Time Units "Day Hour:Minute", "Hour:Minute:Second", "Minute:Second.10msec","Year/Month/Day Hour:Minute", "Month/Day Hour:Minute:Second"," "Day Hour: minute: second.10 ms", or OFF (no recording) can be specified
Line status display
Records and displays the wave form of 7 signals, RTS, CTS, DTR, DSR, DCD, RI, TRG (external trigger input) along with the transmission / reception data.
Address filter
Records only frames of the specified address. (only when HDLC / SDLC / X.25)
Data display and operations
Pause in capture, scroll, paging, jump to the specified screen.
Bit shift display
Entire frame can be shifted to the right or left in 1 bit increments.
Protocol translation display
SDLC (modulo 8/128), ITU-T X.25 (modulo 8/128), LAPD, PPP, BSC, I2C, Modbus
Line status LED
Two color LEDs of SD, RD, RS(RTS), CS(CTS), ER(DTR), DR(DSR), CD(DCD), CI(RI), ST1(TXC1), ST2(TXC2), RT(RXC).
RS-232C
Logic ON (red) , logic OFF (green) , no connection NC (light off)
Other I/F
Logic ON (red) , logic OFF or no connection NC (light off)
Interval timer
2kinds; Max. count: 999999 (Resolution: 1ms ,10ms ,100ms)
General-purpose counter
2kinds; Max. count: 999999
Data counter
For SD and RD (1 each): Max. count: 4294967295
Trigger function
Up to four pairs of trigger conditions and actions can be specified.
Sequential actions, which validate another condition after one condition is satisfied, are possible.
condition
Communication error (Parity, MP, framing, BCC, break, abort, short frame can be specified individually.), communication data string up to 8 characters (don't care and bit mask available), idle time more than the specified duration, match time/counter value, logic status of interface signal line and extarnal trigger input
action
Stops measurement/test (number of offsets until a stop can be set), validates trigger conditions, controls timer (start/stop/restart), controls counter (count/clear), activates buzzer, saves monitor data on a memory card, sends the specified character string (during manual simulation), and sends pulse output to external trigger terminal OT2.
External trigger output
Sends pulse output to external trigger terminal OT1 when all conditions are satisfied. Sends pulse output to external trigger terminal OT2 when the trigger action is set so.
Data search function
Retrieves the data with specific condition from capture memory.
condition
Communication error (parity, MP, framing, BCC, break, abort, short frame can be specified individually), communication data string up to 8 characters (don't care and bit mask available), idle time more than the specified duration, specified time stamp, time stamp of the specified time (the time range can be specified), and trigger matching data
action
Shows the match data at the top or enumeration display (selectable)
Mark jump
You can add marks (up to 5 points) to the data in the capture memory and jump to the marked position.
Monitor conditions auto setting
Measurement conditions such as protocol, transmission speed, (max. 460.8Kbps), framing, data code, synchronous character and BCC check can be automarically set.*7
Auto run/stop function
It can automatically start and finish measurement at the specified time at the selected repeating cycle (monthly, daily, hourly).
Power ON auto run function
It can automatically start measurement when power is turned ON.
Auto save function
Automatically saves the monitored data in the capture memory and saves as communications log file in a SD card or USB flash memory.
Restart mode and Append mode (which are ring save operation) and Max mode (in which the measurement stops at the specified capacity.) can be selected.
File size
BUF (capture memory size) , 1MB , 2MB , 4MB , 8MB , 16MB, 32MB
MAX. files
1024
Delay time function
Measures and displays the interval of change in the interface signal line. (current/min/max/average, resolution: 0. 1ms)
Signal voltage measurement function

Measures and displays the value of voltage amplitude:
SD, RD, ER (DTR), and CD (DCD) of RS-232C
SD, RD, RS, and CS of TTL port
Displays current/min/max value and the resolution is 0.1V
Input range for RS-232C port is ±18V and for TTL port is -1V to 6V.

Statistical analysis function
Takes statistics for 1 to 240 minutes (1 min unit) and displays graphs of transmission/reception data, number of frames, and satisfied trigger condition count.
Logic analyzer function
Measures the logical change of the interface signal in the sampling clock period, and displays its wave.
Sampling clock
1KHz to 20MHz (14 steps)
Sampling memory
Max 4096
Trigger condition
Logical status match between interface signal line and external signal. Match of the specified trigger conditions of ONLINE monitor functions
Trigger position
Before, center, after
Trigger pass count
You can specify the number of times (0 to 9999) to pass (ignore) the trigger condition match
Zoom in/out
×10, ×5, ×2, ×1, ×1/2, ×1/4, ×1/8, ×1/16, ×1/32, ×1/64
Other functions
Time measurement between the cursors, signal line exchange, signal status search
Bit error rate test
Conforming to ITU-T G.821 it measures line quality such as bit error rate and block error rate*8.
Communication mode
Synchronous (SYNC) or Asynchronous (ASYNC) can be selected. RTS/CTS flow control is available.
Measurement speed
50bps to 2.048Mbps, freely set by four effective digits
Measurement mode
Continuous measurememt, specifies the number of receiving bit, specifies the time to measure, repeatedly measurement at the unit of 1 - 1440 min
Test pattern
26-1, 29-1, 211-1, MARK, SPACE, ALT, DBL-ALT, 3in24, 1in16, 1in8, 1in4
Error bit insertion
Inserts 1-bit or 5-bit error in test pattern by key operation.
Measurement range
It is able to measure the parameter of the ITU-T advice G.821.
Effective received bit (0 to 9999999sec), bit errors (0 to 9999999 to 9.99E9), bit error rate(0 to 9. 99E-9 to 1), block errors (0 to 9999999 to 9.99E9), block error rate (0 to 9.99E-9 to 1), Savail(available measurement time: 0 to 9999999sec), loss count (synch loss: 0 to 9999), error duration (0 to 9999999sec), %EFS (normal operation rate: 0. 000 to 100. 000%)
Simulation function
Transmission/reception test of arbitrary data in DTE or DCE mode (pin assingnment can be switched) is avaialble.
Transmit data entry
Transmit data entry: Register 160 kinds of transmission data tables (10 Groups x 16, total 16K data)
Error data entry
A part of transmission data can be registerd as error data such as parity error.
Line auto control
Auto (Controls transmission timing with RS(RTS), CS(CTS), ER(DTR), CD(DCD) signal lines automatically in 1 ms resolution) or manual control (key operation) can be selected.
Transmit driver control
During simulation, if RS-422/485 driver IC is / always activated / automatically activated before and after data transmission / activated in conjunction with [SHIFT] + [F] operation are selectable.
MANUAL mode
Sends the data assigned to operation keys each time a key is pressed, while checking communications status on the display. Can be used together with the trigger function
FLOW mode
Simulates the X-on /X-off control data and flow control procedures of RTS/CTS control line. (To be sender or receiver is selectable).*9
ECHO mode
Returns reception data in frames (buffer echo), in bytes (character echo), or by looping back (loopback echo).
POLLING mode
Simulates polling communications procedures. (To be slave or master is selectable.)
BUFFER mode
Reproduces transmission of selected data (SD or RD) captured in memory by monitor function.
PROGRAM mode
Creates a simulation program (Max. type: 4, Max steps: 512) using the dedicated commands (38 types) to test the communication procedure.
File management function
Measurement data and condition can be saved in a SD card or USB flash. And the format of the data/condition can be used in a PC.
File types
Measurement data (.DT), all measurement conditions (.SU), trigger save data (TGSAVEnn.DT), and auto save data (#nnnnnnn.DT)
File controls
Normal file display, file display by specified type/created date basis, save, load, delete, delete all.
Supported storage device
2G to 32G byte SD/SDHC card (only the optional SD card sold by LINEEYE are supported.) or a USB flash memory up to 32Gbyte
Remote Control
PC link software "LE-PC300R"(light edition) is attached*10
The Library to control the analyzer is available.
LCD
4.3 inch TFT color display (480 x 272 dot)
Touch panel
Capacitive touch panel
SD card slot
Standard size for SD/SDHC memory card. Compatible with the standard of SD association.
USB2.0 device port
Micro B-connector supports High speed transfer. Can be used for PC connection [LE-PC300R], bus power supply, and firmware upgrade.
USB2.0 host port
Standard A-connector supports High speed transfer. Can be used for USB flash memory.
Wi-Fi Connection
IEEE 802.11 b/g/n*11
Frequency range: 2400MHz-2483.5MHz
Transmission power: +20dBm(802.11b), +17dBm(802.11g), +14dBm(802.11n)
Used for PC connection by LE-PC300R
Power supply
USB bus power DC5V 1A
Attached USB charger input:AC100 to 240V, 50/60Hz
Built-in battery
Lithium-ion secondary battery (Model: P-26LS1)
Battery operating time*12
About 7 hours
Battery charging time
Quick charge: About 3.5 hours
Normal charge: About 6 hours
Temperature range
In operation : 0 to 40 degree Celsius, In storage : -10 to 50 degree Celsius
Humidity range
85% (RH) max.
Standard
CE(Class A)
Dimension, mass
190 ( W ) x 153 ( D ) x 38 ( H ) mm, About 550g
Accessories
Monitor cable for DSUB 25-pin (LE-25M1), Monitor cable for DSUB 9-pin (LE-009M2), DSUB25pin-9pin conversion adapter, 5 wires TTL prove cable (LE-5LS), micro USB cable, USB charger (LE-P2USB), carrying bag (LEB-01), Utility CD, quick start guide, and warranty
<Standard Accessories>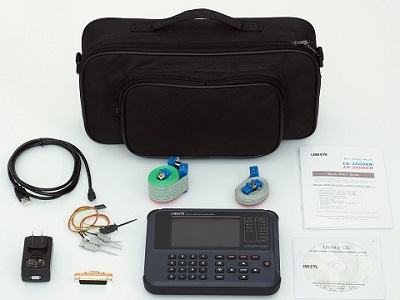 *1
: To monitor control line, expansion board "OP-SB10N" (which has RS-530 port) is needed.
*2
: To use the function, the optional accessories described in the brackets are required.
*3
: This mode is used to capture all data in synchronization with clock edges.
*4
: Transmission/reception data, idle time, time stamp, and line status items consume 4 bytes of memory at each capture.
*6
: JIS (7bit data), EBCD, and Baudot are displayed in different characters depending on the shift-out (SO) and shift-in (SI) characters.
*7
: This function supports only ASYNC, SYNC/BSC, HDLC/SDLC. Correct auto settings are impossible if the amount of communications data is small or communications data includes a large number of errors.
*8
: Only ASYNC mode and SYNC mode are available.
*9
: Only ASYNC is available.
*10
: This is the light edition of optional product "LE-PC300R" (with some limitation for its functions).
*11
: Wi-Fi function is available only in Japan, USA, Canada, and EU nations where the product is needed to be compliant with RE directive (2014/53/EU). The Wi-Fi function of this product is set to invalid depending on the country where it is shipped. Please contact LINEEYE for the detail.
*12
: The battery operating time was measured under LINEEYE's measurement conditions with the LCD backlight turned OFF.