PRODUCT
RS-530 Expansion Kit
(For LE-3500R/2500R/1500R)
OP-SB10N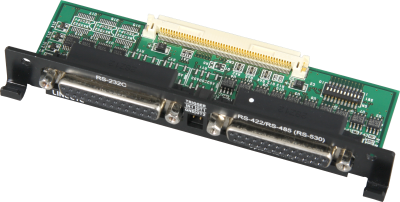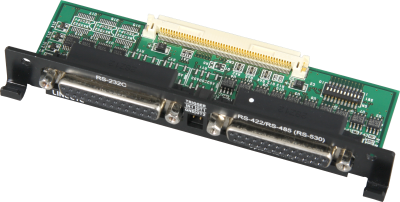 Overview
OP-SB10N is a measurement board which has RS-232C(V.24) interface of DSUB25 pin and RS-422/485(RS-530) interface of DSUB25 pin.
Standard measurement board of LE-3500R/LE-2500R has 5 poles terminal of RS-422/485 interface (for send/receive signal and signal grand) and does not have control line of RS-422. RS-422/485 interface of OB-SB10N has control line of RTS/CTS and DSR/DTR, thus monitoring and simulation which need to use these lines are available.

When you want to use following cables on LE-3500R/LE-2500R, OP-SB10N is needed. These cables are used by connecting it with the RS-422/485(RS-530) connector of OP-SB10N.
| Name | Model | Remarks |
| --- | --- | --- |
| X.21 monitor cable | LE-25Y15 | Y type branch cable of DSUB 15pin for X.20/21 measurement |
| RS-449 monitor cable | LE-25Y37 | Y type branch cable of DSUB 37pin for RS-449 measurement |
| V.35 monitor cable | LE-25M34 | Y type branch cable of Mtype 34pin for V.35 measurement |
| RS-530 cable | LE-25S530 | Straight shield cable |