February. 25, 2019
LINEEYE CO., LTD.
Compact and low-cost LAN packet tester for 10/100BASE-TX "LE-590TX" has been released.
LINEEYE Co., LTD. has released a LAN packet tester "LE-590TX" which can capture packets of 10/100BASE-TX or generate packets by USB connecting with a PC.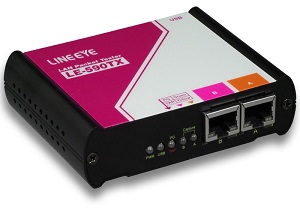 <LE-590TX>
[ Background and Outline ]
While the LAN network for data communication gradually supports the high-speed communication of Gbps, small communication traffic such as the one of IoT devices or industries still use the Ethernet of up to 100BASE-TX.
LINEEYE Co., LTD. has released a LAN packet tester "LE-590TX" used by connecting with a PC to capture packets of 10/100 BASE-TX. It can capture the packets on the LAN cable. It has a the packet generater function to freely define/edit and transmit frames of 2-7 layer. It also can execute a testing based on RFC2544 by using the attached software. The packet generater function can execute the load testin of network gradually changing the range depending on the wire rate as you can set arbitrary frame gaps. The 170g light body is suitable for the field testing used with a laptop PC. The captured data can be analyzed at Wireshark and the packet tester can used as a network interface from the Wireshark for the real-time capture monitoring.
[ Features ]
The TAP mode captures packets of 10/100BASE-TX and transfer it to a PC by USB.
The Packet generater mode generates the test packets up to 100Mbps line rate.
With the NIC mode it acts as a network interface of the PC.
RFC2544 based test tool (for such as latency testing) is attached.
The time series variation of the traffic can be displayed as a line graph, pie graph, or bar graph.
It can obtain the network statistical information such as error rate (error frames can be counted by type.)
Hand-held, about 170g compact and light body
Specification
Measurement
Port
2 ports of Ethernet 10Base-T/ 100Base-TX (RJ-45 connector) Auto MDI/MDI-X supported
PC connection port
USB2.0 High Speed Mini USB Port
LED
Display for power ON/OFF, TAP/PG, Link/Speed of PortA/B, Capture of PortA/B,
TAP mode
Capture full-duplex packet data on PortA and PortB which are through-connected. Packet data will be transmitted to the PC adding the time stamp information etc.

Function of LE590-TAP (software)

Filtering
Counter panel
The universal counter can be saved in Excel format.
Automatically saves the data into the specified folder on the Instant Mode.
Can save the data in PCAP format.
Traffic display by line, pie, and bar graph.
L1/L2 loop-back test function
Direct capturing from Wireshark is available.

PG mode
Transmits a uni, multi, or boradcast at line-rate from each of A and B port.

Function of LE590-SG (software)

Specifies the transmission type (10M/100M, full/half duplex, auto, MDIX)
Specifies the rate
On/Off of flow control
Specifies transmission from continuous, packet numbers, and time
Configures 2-7 layer of data frames (up to 64, capture data can be read, VLAN and X-TAG can be specified.)(preamble is not available.).
Adds CRC and IP checksum error.
BERT function
Router NAT function

Function of LE590-2544 (software)

Throughput, latency, packet loss, and back to back test are available.

NIC mode
One of the Port A or Port B acts as NIC (Network Interface Card).
Temperature
0 to 40°C(operation), -10 to 70°C(storage), Below 85%RH (no condensation)
Dimension and Weight
95(W)x76.6(D)x19.6(H)mm, 170g
OS
Windows® 7/8/8.1/10 (each 32/64bit)
[ Contact ]
Email: Contact Us