What's new
27th August, 2020
The extended firmware which supports CC-Link and high-speed SPI is developped.
LINEEYE Co., Ltd. has developed the extended firmware "OP-FW10XR" which increases the measurement speed of HDLC and SPI up to 10Mbps by adding it to the new protocol analyzer LE-3500XR, and started shipping it on the August 1.
Background
CC-Link operates HDLC of RS-485 half-duplex line at high-communication-speed such as 10 Mbps and 5 Mbps to support high-speed response in the FA field. For SPI communication between ICs and microcomputers, high-speed mass transfer exceeding 3Mbps has become popular.
Outline
"OP-FW10XR" is the extended firmware which speeds up the measurement processing of LE-3500XR. By processing all communication data and time stamps on the FPGA, time stamps in microseconds and reliable high-speed data capture are realized. By extending the count bit length of the time stamp compared to the extended firmware for the conventional analyzer, it can monitored the data without overflow if the communication frame interval is within about 134 seconds even with 1 μs resolution (overflow occurred at 0.5 seconds with 1 μs resolution in the past). In addition, it can output a pulse to the external trigger terminal when the communication trigger is established, with it the analyzer can work with an external measuring instrument such as an oscilloscope. In HDLC half-duplex communication such as CC-Link, the HDLC communication frame is divided into TXD and RXD and displayed in an easy-to-see manner by the first 2 bytes of address data following the flag sequence. Both HDLC and SPI communication support not only data monitoring but also simulation function which can send arbitrary data. The SPI can be used in either master mode or slave mode to simulate four transfer modes of the different data and clock phases. By processing all major measurement processing with FPGA, communication data can be reliably captured with a time stamp in microseconds.
This is the best option for observing high-speed HDLC communication such as CC-LINK of RS-485 multi-drop method, and analyzing high-speed HDLC and high-speed SPI communication of TTL signal level on the printed circuit board.
Feature
< SPI setting display >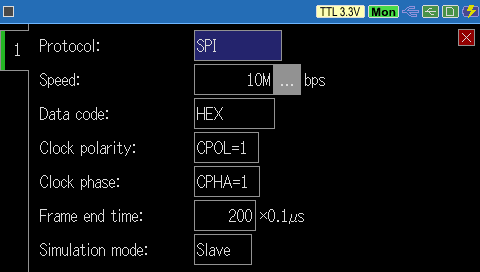 Reliable real-time monitoring of HDLC and SPI communication up to 10 Mbps
Timestamp that can measure up to 134217727 in 1 microsecond units
Pulse output synchronized with a trigger that can operate sequentially
Flexible HDLC address filter and address sorting display
Simulation function also supports high-speed and can send arbitrary data
Supports auto save (automatic logging), auto run (automatic measurement start), and PC connection
Specification