What's new
2nd March, 2022
LINEEYE develops a protocol analyzer for 10GbE monitoring and packet output
LINEEYE Co., Ltd. develops and releases a multi-protocol analyzer "LE-8600X" and "LE-8600XR" that can realize 10GbE Ethernet packet capture without a PC and also support network evaluation by sending test packets.
Outline
While high-speed networks using optical fiber cables are becoming more widespread in high-speed servers in data centers and base stations, process management servers in factories, etc., the demand for a network communication analyzer that is easy to use even in the on-site test is growing - The analyzer should be able to execute independently 10GbE LAN measurement, load testing, and failure analysis and be used at customer sites.
The LE-8600X/LE-8600XR are equipped with two measurement ports compatible with SFP/SFP+ modules and are handy type Ethernet LAN analyzer that supports high-speed LAN measurement tests that use single-mode or multi-mode optical fiber cables as a single unit.
The model is equipped with a 7-inch wide-color LCD with a touch panel, thus you can check the measurement data immediately on-site without using a personal computer. You can log the data can be automatically saved to the 1GB capture memory and a built-in 500GB SSD. In addition, as the time stamps that are time-corrected with high accuracy by GNSS signals can be added to the monitor data, by checking the time stamps you can compare and analyze the data measured simultaneously at two points for a long period of time to investigate a communication failure.
Furthermore, by replacing the standard measurement board with another measurement board (sold separately), the communication interface to be measured can be expanded later, so it can be widely used from network systems to development testing and maintenance of embedded communication equipment.
>> LE-8600X/LE-8600XR product information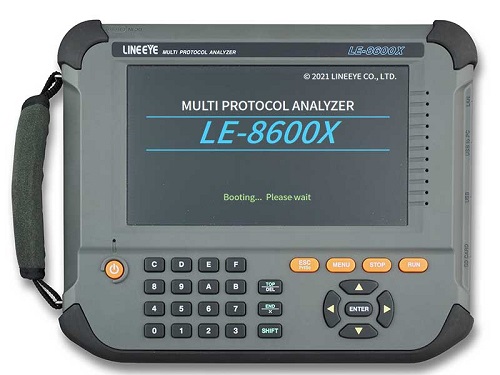 [ LE-8600X/LE-8600XR measurement port ]
Feature
Two measurement ports which support SFP/SFP+ modules
Real-time monitor recording of 10Gbit packets
Output test packets for network load test
Newly designed lightweight housing with 7-inch color LCD with touch panel
Adds time stamps which can be synchronization by GNSS (PPS) signal
Automatically records communication logs into large-capacity external storage via USB3.0
Save data in PcapNG files that can be analyzed by Wireshark
PC link with LAN, USB, or Wi-Fi (XR only) connection
Specification
Model※1
LE-8600X / LE-8600XR
Interface
SFP+ 2 ports. A and B (optional SFP/SFP+ modules tobe connected)
10GBASE-T/SR/LR/ER, 1000BASE-T/SX/LX/EX etc.
With SB-GE2※2
10/100/1000BASE-T
With SB-R2TS1※3
RS-232C, RS-530, RS-422/485, TTL
Protocol
IPv4, ARP, ICMP, TCP, UDP, DHCP, EtherCAT
Max. speed
10Gbps
Measurement test function
Packet monitor, SFP information display, statistic analysis, packet generate, PING
Time stamp resolution
8ns
Recording frame number
Maximum approximately 100,000 frames to 15000000 frames (equivalent to a maximum of 1 GB) Supports conversion of log data to PcapNG format file
Capture memory / storage
Capture memory: 1Gbyte, Internal storage: 500Gbyte SSD
Display
7-inch TFT color with capacitance touch panel
GPS port
SMA (female), for time correction of the time stamp. Optional GPS antenna is to be connected.
LAN port
RJ45 connector, 1000BASE-T Ethernet: IEEE 802.3 for PC connection
USB device port
Type-C connector, for SuperSpeed transfer. A PC is to be connected.
USB host port
Standard A connector, for SuperSpeed transfer. External storage (USB flash, SSD) is to be connected.
SD card slot
SDHC card is supported. SD Association standard compliant
Power
Built-in lithium-ion battery or attached AC adapter
Size & Weight
234(W) x 186(D) x 44(H)mm, about 990g
※1
: "XR" model has Wi-Fi function (for PC connection)
※2
: Functions equivalent to LE-8500X by using optional board (SB-GE2).
※3
: Functions equivalent to LE-8500X-RT by using optional board (SB-R2TS1).
Contact