PRODUCT
PC link software for CAN(FD)/CXPI/LIN
(For OP-SB7XC/OP-SB7XL)
NEW
LE-PC7XCL
Overview
LE-PC7XCL is a Windows® PC software which can remotely control an analyzer equipped with the OP-SB7XC/OP-SB7XL (expansion board for in-vehicle communication such as CAN) from a PC and capture communication data in measurement to the PC for analysis. It supports the combination of expansion board OP-SB7XC/OP-SB7XL and protocol analyzer LE-3500XR/LE-2500XR.
Analysis of CAN FD/CAN/CXPI/LIN on a large PC screen
Supports USB connection and Wi-Fi connection
Key emulation for easy operation
Remote monitor function for high-capacity continuous recording
Watch data display which makes the data in a specific frame easy to see
Supports new functions of the expansion board such as J1939 parameter display and CXPI measurement
USB Connection to the PC
The PC and analyzer can be connected via USB or Wi-Fi. In addition to connecting and performing real-time data transfer, you can copy the data logged on the USB memory or SD card by the analyzer to a PC and open it by the PC link software or convert it to text/CSV format.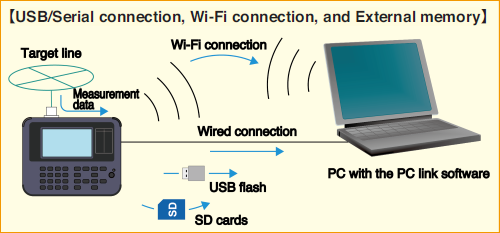 Key emulation function
It can emulate the touch panel and keyboard of the analyzer as it is on the computer. Remote control is available as if you operates the analyzer directly from the PC.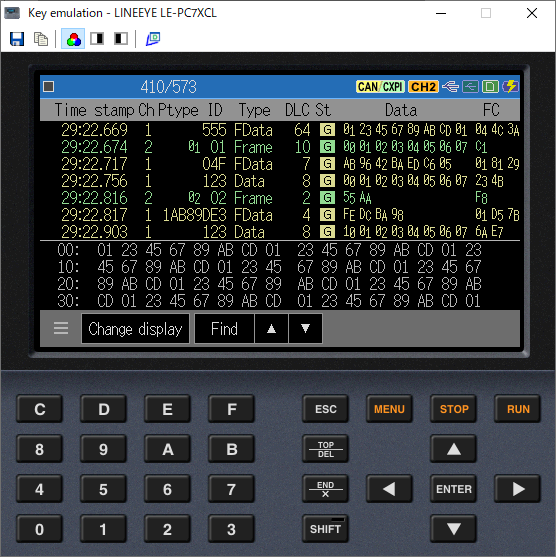 Remote monitor function
It can acquire communication data being measured by the analyzer in real time and continuously record them on the HDD/SSD of the PC up to the specified capacity (maximum 32 GB: specified recording file size 32 MB × 1024).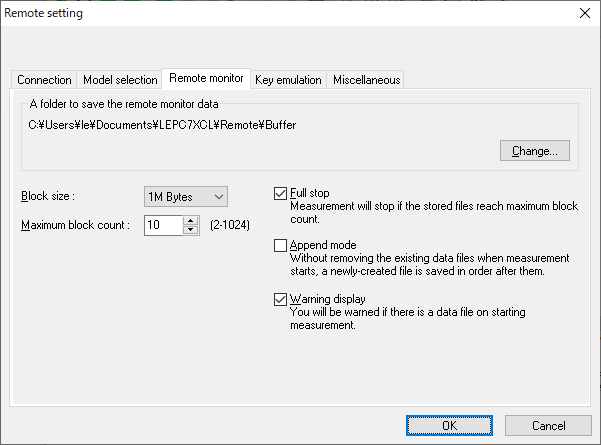 The watch data display makes it the data in a specific frame easy to see.
Since the specific communication frame specified by ID can be overwritten on the specified line of the display screen in real time, changes in specific data can be confirmed without stopping the measurement.
Watch data display setting
Watch data display

Data analysis function
You can efficiently analyze a large amount of measurement data by the search function which not only searches communication frames by specified data but also can search by trigger matching points and time stamps. And the text/CSV conversion function which can convert multiple files at the same time also serves the analysis. It is also able to display the timing waveform of the communication line or external input recorded by the logic analyzer function of the analyzer.
Data monitor display
Search setting display
Text conversion setting display
Digital waveform monitor display

J1939 parameter display
Some parameters defined in SAE J1939-71 (Rev.2003-12) can be translated and displayed.
J1939 display setting
J1939 display