What's new
17th April, 2020
Multi-protocol analyzer "LE-3500XR/LE-2500XR" equipped with color display has been released.
LINEEYE Co., Ltd. has released the handy type battery-powered multi-protocol analyzer "LE-3500XR/LE-2500XR" which can analyze communication efficiently by touch panel operation.
Background and outline
The battery-powered, easy-to-carry protocol analyzer has been used by many engineers as a tool for checking communication data on site and logging without a PC. We have developed many models which support RS-232C, RS-485 (widely used in the industrial fields), TTL (used for microcomputers) as a main lineup of our communication analyzers.
This time, Line Eye Co., Ltd. has renewed the middle range model of the multi-protocol analyzer and will release a new product "LE-3500XR / LE-2500XR" which support both LCD touch operation and keyboard operation. The 4.3-inch color LCD with a capacitive touch panel enables intuitive touch and swipe operations like a smartphone, and can scroll vertically and horizontally in the data view. You can input the transmisison data for simulation efficiently by touching the full keyboard on the screen. In addition, by adopting a lithium-ion battery pack, we have achieved a significant reduction in size and weight while maintaining the same battery life as the conventional model.
The color display improves the visibility during communication analysis in online monitors, simulations, BERT, etc. The capture memory has been greatly enhanced compared to the conventional model, and the long-term continuous recording function (by which the analyzer saves the data into a SD card / USB flash) has been enhanced too. In addition, CAN FD and CXPI can be measured by using the newly released expansion board option (for in-vehicle communication) OP-SB7XC / OP-SB7XL. It is a communication analyzer that can be widely used for the development and maintenance of IoT devices, FA, and automobile-related devices, along with the serial and TTL communication analysis.
>> LE-3500XR product information
>> LE-2500XR product information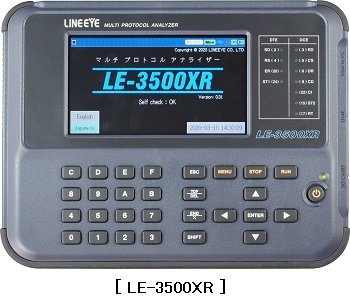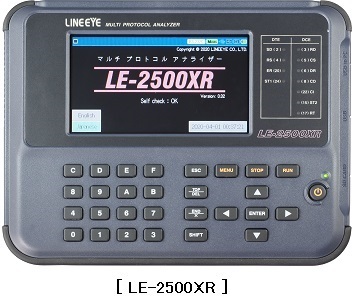 Feature
Hybrid operation of capacitive touch panel and physical keyboard
RS-232C, RS-422/485, TTL (1.8V-5V signal) communication measurement port are equipped as the standard.
Multi protocol support for ASYNC (UART), HDLC, I2C, and SPI. Besides them LE-3500XR supports Modbus too.
By optional measurement board they support In-vehicle communication such as CAN FD, CXPI, LIN, and legacy communications such as X.20 / 21, RS-449, V.35 etc.
Automatically saves communication logs to SDHC card or USB memory safely and securely even if the power is suddenly turned off
They have the logic analyzer function with resolution of 50nS and the amplitude level measurement function RS-232C/TTL signal.
The PC link software offers browsing the data and data cenversion into text format by connectintg them with the PC by Wi-Fi/USB.
They run by USB bus power. Without the USB bus power it can run for 7 hours continuously by the equipped lithium-ion buttery.
Specification
Model
LE-3500XR
LE-2500XR
Standard Interface
RS-232C, RS-422/485, TTL(1.8V to 5V signal level)
Optional Interface
CAN FD/CAN/LIN/CXPI, X.20/21, RS-449, V.35, RS-530, Current Loop
Standard Protocol
ASYNC/UART, SYNC/BSC, HDLC/SDLC, PPP(ASYNC), BURST, I2C, SPI, Modbus
ASYNC/UART, SYNC/BSC, HDLC/SDLC, PPP(ASYNC), BURST, I2C, SPI
Optional Protocol
CAN FD/CAN, Device Net, LIN (Rev.1.1,1.2,1.3,2.0,2.1), Current Loop
Dispalay
4.3 inch color display plus capacitive touch panel
Capture Memory
100M byte
Communication Speed
50bps to 2.048Mbps (arbitrary)*1
50bps to 1.000Mbps (arbitrary)
Online Monitor
Communication log is recorded continuously and displayed in real-time without affecting the communication lines.
Statistical Analysis
Graphical display of communication events in time series
-
Trigger
Up to four pairs of trigger conditions and actions can be specified. External trigger (1 input, 2 outputs)
Simulation
6 modes (including the program mode)
4 modes (not including the program mode)
BERT
Conforming to ITU-T G.821 it measures line quality such bit error rate and block error rate*2
Additional Function
Logic analyzer function of max. 50nS resolution and monitoring function of the swing of RS-232/TTL level signal
External Memory*3
SDHC card/USB flash. Max.32Gbyte
External Interface
USB2.0, Wi-Fi*4
Power
Lithium-ion battery((operating time is about 7 hours 7*5), USB bus power
Dimension & weight
190(W)x153(D)x38(H) mm, about 550g
Accessories
Monitor cable for DSUB 25-pin, Monitor cable for DSUB 9-pin, DSUB25pin-9pin conversion adapter, 5 wires TTL prove cable, Micro USB cable, USB charger, carrying bag, Utility CD, quick start guide and warranty
*1
: It is up to 1 Mbps for I
2
C simulation. The optional firmware for high-speed communication supports CC-Link/HDLC/SPI of up to 10Mbps.
*2
: BERT function is available only for ASYNC mode and SYNC mode and not available for I
2
C nor SPI.
*3
: Only SDHC cards sold by LINEEYE are supported.
*4
: Wi-Fi function is available only in Japan, USA, Canada, and EU.
*5
: Based on the test report by LINEEYE.
Comparison Table
○ means standard function while △ means optional function
New model
LE-3500XR
Former model
LE-3500
New model
LE-2500XR
Former model
LE-2500
RS-232C, RS-422/485
○
TTL(1.8V to 5V signal)
○
CAN FD, CAN, DeviceNet
△ [OP-SB7XC, OP-SB7XL]
-
△ [OP-SB7XC, OP-SB7XL]
-
CXPI
△ [OP-SB7XC]
-
△ [OP-SB7XC]
-
CAN, DeviceNet, LIN
△ [OP-SB7XL]
△ [OP-SB7GX]
△ [OP-SB7XL]
△ [OP-SB7GX]
X.20/21, RS-449, V.35
△ [OP-SB10N]*1
USART
△ [OP-SB5GL]
Current Loop
△ [OP-SB1C]
CC-Link/HDLC/High-speed SPI
△ [OP-FW10XR]
△ [OP-FW10R]
-
-
Display
4.3 inch color LCD
Capacitive touch panel
Monochrome LCD
with backlight
4.3 inch color LCD
Capacitive touch panel
Monochrome LCD
with backlight
Touch Panel
Yes
-
Yes
-
Capture Memory
100MB
64MB
100MB
64MB
Max. speed (full duplex)
Max. speed (half duplex)
2.048Mbps
2.048Mbps
1.000Mbps
1.000Mbps
Statistical Analysis
Yes
-
Simulation
6 modes
4 modes
RS-232C signal level measurement
Yes
TTL signal level measurement
SDHC card
Max.32Gbyte
Max.16Gbyte
USB flash
Max.32Gbyte
Max.16Gbyte
USB connection
USB high speed
AUX connection
-
Yes
-
Yes
Wi-Fi*2
802.11 b/g/n
Dimension (WxDxH)
190×153×38mm
210×154×38mm
190×153×38mm
210×154×38mm
Weight
About 550g
About 790g
About 550g
About 760g
*1
: Optional monitor cables for each interfaces are needed.
*2
: Available only in Japan, USA, Canada, and EU
Options
Name
Model
Remaks
Interface expansion kits
CAN FD/CAN/CXPI expansion kit
OP-SB7XC
Measures 2 channels at the same time.
CAN FD/CAN/LIN expansion kit
OP-SB7XL
Measures 2 channels at the same time.
RS-530 expansion kit
OP-SB10N
Measurement for X.20/21, RS-449, V.35
Current loop expansion kit
OP-SB1C
Equivalent to SB-25L with OP-1C
TTL/I2C/SPI expansion kit
OP-SB5GL
Supports USART (which is not supported by the standard board)
Expansion firmware
Firmware for high-speed
OP-FW10XR
For CC-Link, HDLC, and SPI(only LE-3500XR supports)
Monitor cables
X.21 monitor cable
LE-25Y15
Y shape cable for X.20/21 (OP-SB10N is needed.)
RS-449 monitor cable
LE-25Y37
Y shape cable for RS-449 (OP-SB10N is needed.)
V.35 monitor cable
LE-25M34
Y shape cable for V.35 (OP-SB10N is needed.)
SDHC cards
16Gbyte SDHC card
SD-16GX
Validated with the analyzer
32Gbyte SDHC card
SD-32GX
Validated with the analyzer
PC soft
PC link software
LE-PC300R
OS: Windows7/8/8.1/10
PC link software for CAN(FD)/CXPI/LIN
LE-PC7XCL
For OP-SB7XC and OP-SB7XL
Contact