PRODUCT
USB ⇔ RS-232C
Interface Converter
SI-55USB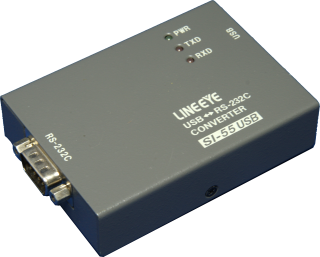 ●3000 High-voltage Resistant Isolation type
●USB Bus power. No need to have an external power supply.
●Virtual COM port driver supporting Windows® 7 is attached.
●Able to use in the severe conditions of -10 to 50 degree Celsius.
●Small sized, metal enclosure, noise resistance.
●Able to mount on 35mm DIN rail.
●Lowe power consumption.
●Equip RS-232C convergent IC supports 1Mbps.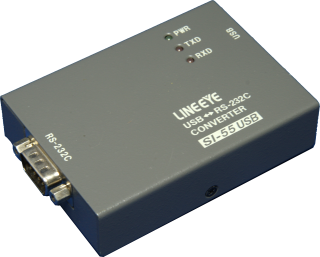 Specification
Specifications (Interface Converter SI-55USB)
Conversion
USB⇔RS-232C
USB Interface
USB1.1/2.0 full speed transmission connector B
LED
Transmission: TXD, Reception: RXD, Power: PWR
Serial Interface
RS-232C DSUB9pin male (inch screw)
Serial Signal
TXD, RXD, RTS, CTS, DSR, DTR, DCD, RI
Asynch type
Asynch
Baud Rate
300bps to 1Mbps*1
Data Frame
Data bits [7or8] + Parity [Even/Odd/none] + Stop bits [1/2]
Flow Control
Xon/off, RTS/CTS (supported by COM port emulator)
Mounting Method
Using M3 screw hole in the bottom, installation to a DIN rail (SI-DIN70 is required.)
Signal Isolation Protection
3000Vdc
System requirements
(USB equipment)
PC: PC/AT compatible with USB ports (DOS/V PC)
OS: Windows® 7/8/8.1/10*2
Power
USB Bus power, DC5V±10%, Max. 270mA
Power Consumption
1.4W or less
Temperature
In operation: -10 to 55°C, In storage: -20 to 75°C
Humidity
In operation: 10 to 90%RH,
In storage: 10 to 90%RH (no condensation)
Dimension
65(W) x 95(D) x 22(H) mm
Weight
Approx. 200g
Composition
USB cable (1.8m), Utility CD, Instruction manual (in Japanese only), Warranty.
*1
: Speed is established in application software
*2
: Supports 32bit/64bit of Windows 7/8/8.1/10